Slendertone and me – week five
Ok I have to admitt – I skipped 2 days last week because I had 2 days of 'omg where did this day go' and the last thing on my mind was Slendertone..
This week's results is a good one, but it has also made me realise that my hips will always be out there – I can not slendertone those away.. so now I think I am an 'hour glass' shaped body (pre-children I was stright up and down).. but these hips are going nowhere.. so I now need to find the right fashion/dress style to fit my bodyshape. (any fashion bloggers/businesses out there.. wanting to lend me some help?)
The results are in. Day One, Day Seven, Day 15, Day 22,Day 29 and now Day 36!
(please ignore last week's as I was severely bloated thanks to a late night fish and chips dinner – but I still took the photo!)
Thanks to Slendertone all Little Bento Blog readers can receive the benefit of a 20% discount off the Slendertone Ab System.
To redeem this offer you must enter the code Bento at the checkout.
This unique code is exclusive to Little Bento Blog′s blog readers and is available until 31st January 2013.

Don't forget to come back next week to check out the final result!!
I have linked up today's post with
My Little Drummer Boys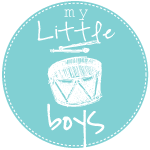 for Wordless Wednesday! (ok it wasn't so much wordless this week….)
Posts you may be interested in